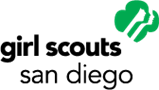 Welcome to Girl Scouts San Diego's online learning portal. Please enter:
--your user name (email address) and set or enter your password
--your first name
--your last name
--your troop number. Enter the word "Troop" + 0 + troop number. Here's an example: Troop01789
--your service unit number. Enter the letters "SU" + service unit number. Here's an example: SU678.
If you don't know your service unit, place SU000 in the field.

Thank you!